WIR UNTERSTÜTZEN DICH BEI DER DIGITALEN TRANSFORMATION UND CLOUD JOURNEY!
---
Learn more about the Google Cloud services! Collaborate together with our expert consultants to take advantage of the cloud in the smartest and most effective way.
happtiq
♥

Google Cloud

Google Cloud unlocks highly effective business transformation opportunities by providing a secure, scalable or cost-effective public cloud platform and the greatest cloud collaboration solution that was ever built.

We at happtiq believe in what we do, that's why we decided to partner with Google and be recognized as an Authorized Partner.

Wenn du mit uns zusammenarbeitest, erhältst du Zugang zu:
Engineers, die auch Google Cloud Authorized Trainer sind
Consultants mit mehreren Google Cloud Zertifizierungen in Spezialisierungen wie:

Cloud Architektur
Cloud Collaboration
Data Engineering
Cloud Infrastruktur & Migration
Some of the benefits of cloud migration are greater elasticity, self-service provisioning and a flexible, pay-per-use model. You can count on our certified Cloud Architects who will support you in your transformation journey and make sure that your workloads are moved to cloud by adhering to best practices.
DevOps & Automatisierung
To gain and sustain a certain level of quality, automating delivery and deployment processes is crucial. We want to support you to automate manual processes and establish an organisation-wide culture that will enable you to rapidly and reliably build, test, and deploy.
Kubernetes & Containerisierung
Do you want to start cloud native or already have containerized workloads?
Wir können eine gemeinsame Roadmap planen und umsetzen, um Kubernetes nach deinen Bedürfnissen einzusetzen. Produktionsreife Kubernetes-Umgebungen sind unser Daily Business.
Cloud Collaboration
---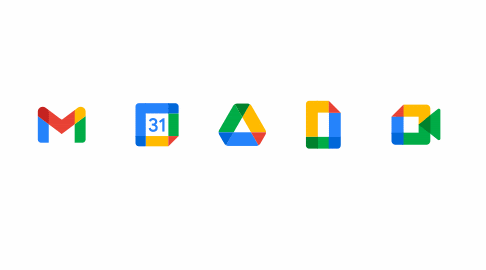 Google Workspace
There is no other technology that defines the cloud better than Google Workspace. Emailing, creating documents, spreadsheets, presentations, scheduling meetings and much more is possible with Google Workspace in a secure and collaborative way. Let's get started with Google Workspace and leave the migration with us. By deploying Google Workspace in your company, you will witness true efficiency.
Cloud Integration
---
Connected Company
Viele Unternehmen nutzen unterschiedliche Cloud- und On-Site-Lösungen, um ihre Geschäftsprozesse abzubilden. Diese reichen meist über die unternehmensinternen Systeme hinaus. Manuelle Interaktionen in mehreren Systemen sind oft mit einem hohen Aufwand, Redundanz und Fehleranfälligkeit verbunden. Mit langjähriger Erfahrung in der Integration von geschäftskritischen Anwendungen stehen wir unseren Kunden mit unserer Expertise zur Seite.
Dell Boomi
To drive digital transformation and build a connected business, happtiq relies on the Dell Boomi AtomSphere®, which is the industry's first and leading cloud-native integration platform-as-a-service. Boomi enables us to modernize our customers' IT architecture quickly and efficiently by supporting all combinations of integrations between cloud, SaaS and on premise systems. Being the first fully certified Dell Boomi Partner in Austria together with our years of experience in the integration area, we are your partner in any integration challenge.
Cloud Care
---
Change Management
When comprehensive projects are being realized in an organization, stakeholders are confronted with different changes from which the company should benefit in the end. As long as changes are not accepted and used in the intended way, the true potential cannot be fully unlocked. In order to prepare your employees for upcoming changes in the best possible way, we see change management as a central part of every project.
Support
Das Projekt ist vorbei und das Delivery-Team reagiert nicht auf deine Anfragen? Nun, das wird nicht passieren, wenn du dich entscheidest, das Projekt mit uns zu realisieren. Aus unserer Erfahrung wissen wir, dass Systeme nicht vom ersten Tag an perfekt sind. Sobald wir die Lösung erfolgreich implementiert haben, kannst du dich jederzeit an unseren Support wenden. Einer unserer zertifizierten Cloud Engineers wird sich deiner Anfrage annehmen und dir zeitnah eine Lösung für dein Problem bieten.
Lass uns zusammenarbeiten und deine Cloud Journey zum Erfolg machen!
Du bist jetzt begeistert und möchtest mehr über uns erfahren? Melde dich bei uns und lass uns wissen, was du vorhast! Wir bringen dich auf deiner Reise in die Cloud voran.
Ruf uns an
+43 (720) 34 91 83
Standort
Am Heumarkt 4/17, 1030 Wien, Austria